'So your bar is there', says Clare. 'You have to have that and give me an appraisal'. 'You can be honest', she adds.
That's a terrible idea, Clare, I think to myself. I'm a hopeless chocolate snob. 'Dairy-free milk chocolate'? How is that even possible?
As Clare herself admits, when you say the word 'vegan', people assume it's going to be horrible. She reckons that 'oh my God it probably tastes like sawdust!' is what they're thinking. But guess what? This Chocolatey Clare's Salted Peanut bar tastes great. Not too sweet and icky like lots of non-milk milk chocolate. Not too pale and wishy-washy. This milk chocolate has a hefty 54% cocoa content, so it's properly, well, chocolatey. 'It's delicious, Clare', I tell her, truthfully. What a relief!
From a standing start 18 months ago, and with a capital investment of under five grand, Clare has mastered the art of organic, vegan chocolate-making, along with a lot of other collateral skills – from sourcing FSC-certified board for packaging (printed with vegetable-based inks) from Priory Printing to identifying the best salted peanuts (Dublin's own Manhattan brand).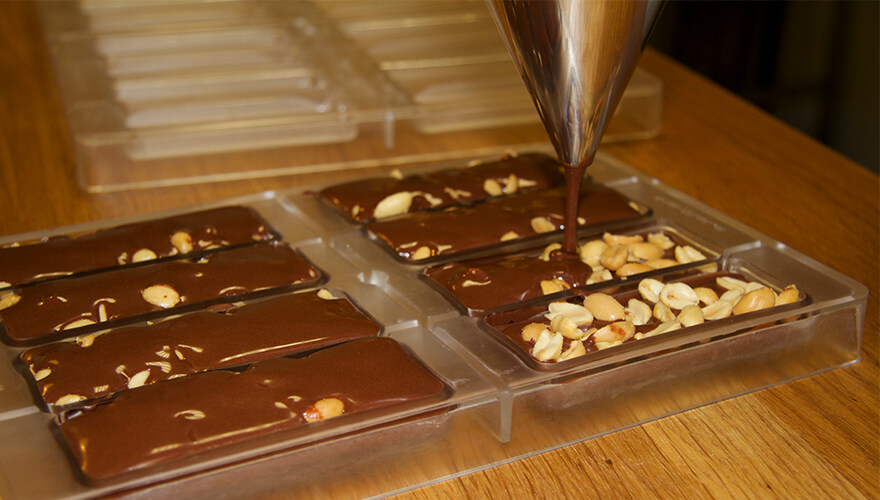 Clare's friend, Ibrahim Phelan of the Chester Beatty Library's Silk Road Cafe, rents out his cookery school's kitchen for the actual manufacturing. She's quick to acknowledge the advice she's received from other chocolate makers too, including Darren O'Connor of Magic Mayan in Ennis and Shana Wilkie of Wilkie's Chocolate in Midleton. Dublin's Local Enterprise Office, Dublin Food Chain and Supervalu's Food Academy programme have also provided invaluable help. A year into her her new career, Clare's role in the business is still very much hands-on in the most literal sense. From tempering the chocolate to folding the packs to writing the best-before dates on every one, well, it doesn't get more artisanal than this.
Dublin.ie: So Clare, why this product and why now?
Clare: Me and my husband have been vegetarian for about 30 years. The boys have been vegetarian since birth and then about three years ago we started looking into the dairy industry. It was niggling at me to be honest with you. And once we looked into the practices and the realities of it – I think it's possibly even more cruel than the meat industry – we decided to become vegan.
there's a very direct link between our food choices and the state of the place and the state of ourselves
Dublin.ie: So no milk chocolate for you then?
Clare: Exactly, and I love chocolate. So when I gave up dairy, I actually couldn't find any dairy-free chocolate that I absolutely loved. I do like dark chocolate but I can't say I love it: I don't get that 'uhhmm..I've had chocolate' feeling! I did try some dairy-free vegan chocolate. A lot of them use rice milk and I found those ones very sweet. Some of the varieties I found just tasted like cheap chocolate – like the Easter eggs we used to get when we were kids, they had that kind of a taste off them – so to me they didn't taste like real, milky chocolate. So that was the gap I was trying to fill.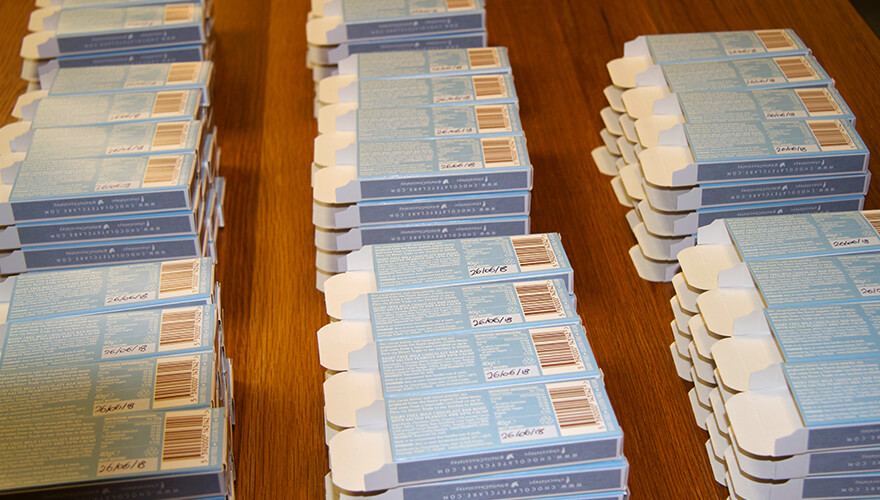 Dublin.ie: You were at Vegfest [Dublin's annual festival for vegetarian produce] last weekend. Are you aware of a trend in Ireland in this direction?
Clare: I think the advent of Netflix documentaries and all this kind of thing has definitely made a big difference to people's ideas. They're more informed. They're realising that there's a very direct link between our food choices and the state of the place and the state of ourselves. The planet, the seas, the polar ice caps, climate change – it can all be linked to our food choices. Then obviously there's the rise in obesity, certainly in this country, and cancers. It's not always related to your diet but obviously, certain things you eat can affect your health.
Dublin.ie: The health aspect is important to you too then?
Clare: One of the reasons I started to question dairy as a component of food was that three of my friends who had completely different illnesses at the time were all advised to come off dairy for medical reasons. So a kind of bell went off in my head: if we've been told that dairy is good for us, why, when you're very ill, are you told to come off it? Surely if it's good for you, you should be told to have more of it?
Because we make it from scratch, we can put whatever we want into it – which is fantastic
Dublin.ie: Have you always been involved in the food business?
Clare: Oh no. I've had three careers in my life. I started off in the 80s. I came out of NIHE as a German translator of technical documentation. For years I had my own business doing that which was fantastic. I loved working for myself. After Adam was born [Clare's second son, who's old enough now to be working with his mother today as part of his transition year] in 2002, I basically decided I wanted to do something else. I became a volunteer adult literacy tutor with the Adult Literacy Service and then I became a part of the team that organised the classes, trained tutors, interviewed people who wanted to improve their literacy skills and I worked in that for about 10 years. Then a couple of years ago I decided I wanted to do something different. Even though I loved all my careers I didn't really want to be pottering around the same office for another 10 years!
Dublin.ie: Were you a keen cook beforehand?
Clare: Oh yes, I'm a very good cook and I always have been – which is very helpful actually if you're a vegan. I've always had a good eye for flavours and I've always looked for proper diets for the lads and ourselves. When we went vegan it was interesting – I just discovered a whole new set of ingredients that I hadn't even noticed before.
Dublin.ie: Where do you source the ingredients for the chocolate?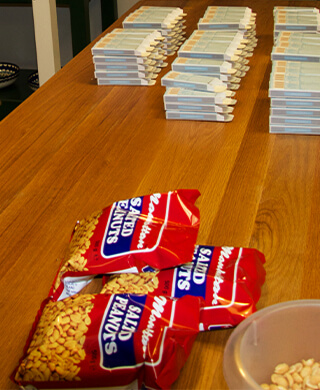 Clare: I buy the cocoa ingredients – that's the raw organic cocoa butter and the cocoa powder – from a fair trade co-op in Peru via Shana Wilkie. And then I use a raw, organic, unrefined cane sugar and organic, freeze-dried coconut milk powder and an organic vanilla powder – so that's the ingredients in the actual chocolate and then I decide what I'm going to put into it. Because we make it from scratch, we can put whatever we want into it – which is fantastic.
Dublin.ie: I suppose you had a long programme of product testing…?
Clare: Well, I was making the chocolate at home just for the family and some of my friends were saying 'you know that's gorgeous, I'd buy that'. And I thought 'really, would other people like this? Would they buy it?'.
Turns out the answers are yes and yes. Check out chocolateyclare.com for a stockist near you.
Clare Tait was talking to Laurence Keogh