There's a lot of things you can learn at your local library. And how to speak Pirate is one of them.
As a place to learn a foreign language, Dublin's public libraries have a notable advantage over the city's other estimable language-learning institutions – the facilities they offer are free!
Aside from the foreign language books you can borrow, your library card gives you access to two other invaluable resources. One is a language app called Mango. The other is the more traditional but by no means outmoded method of improving your French, or your Mandarin; conversation with like-minded souls.
Mango Languages is an 'online language learning resource that teaches real conversations in over 70 foreign languages'. You just key-in the barcode number from your library membership card, create a username and password, and you're up and running on your smart device choice. If you're already fluent in Turkish and Thai, for instance, why not give Tamil a go? Or Tagalog? Or Telugu? And that's just the T's.
use the second person pronoun 'ye'
And hang on a second, what's this under 'P'? 'Pirate?' Now, who could resist clicking on that one? 'Welcome to Pirate', it says on screen, 'start by choosing a course from the menu'. I choose 'Captain's Orders'. The goals here include 'greet a friend and superior', 'give sailing commands' and 'use the second person pronoun ye'.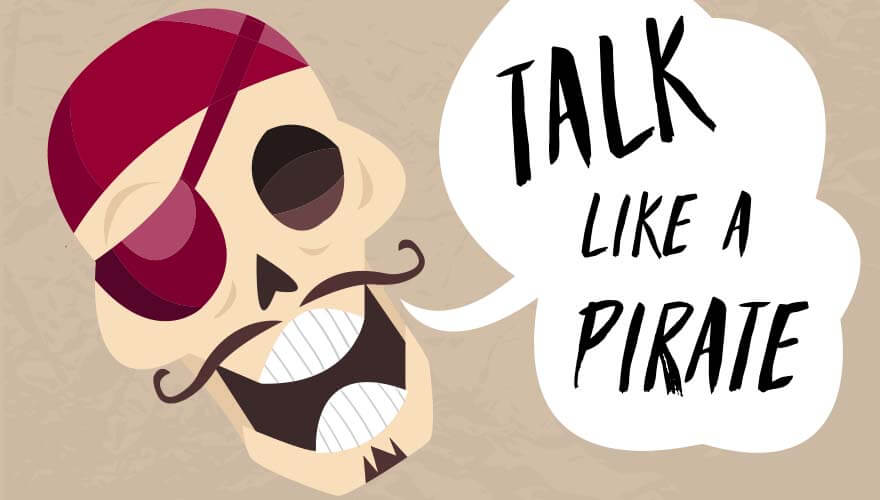 But fear ye not, me hearties, among the less Jack Sparrow-like languages on offer, you'll find all your old euro-favourites like French, Spanish, Italian and German. Plus Mandarin and Japanese for business folk with a weather eye on the Far East. The app also offers speciality course in all sorts of fascinating and useful subjects: from Arab Etiquette and Business Spanish to French Wine and Cheese or the Chinese Zodiac.
But what if you want to exercise your new-found (or about-to-be-acquired) language skills on a real person, face to face?
I was worried that I sounded like an eejit when I tried to say a word the way a French person would
A number of Dublin libraries – nine at last count – host conversation groups on a regular basis. Some are more formal, with native language facilitators and a willingness to tackle the knottier issues of grammar and pronunciation that every language throws up. Others are more casual affairs with an emphasis on whatever works for the participants.
Bette King runs French Fridays at her local library, Pembroke in Ballsbridge. She describes it as an 'informal gathering of lovers of French language and culture who want to improve their knowledge through conversation, reading and exchange of learning ideas'.
Bette is keen to point out that she's not a teacher. She's not French either. But that's okay. All she's interested in is providing the opportunity for people to speak a language that's not their own to each other.
'Everyone's welcome', she says. 'All you need is some knowledge of French, however basic. Plus a willingness to share and participate'. 'So who actually shows up?', we ask. 'Mostly people from the neighbourhood', she says. 'They're in their 30s, 40s, 50s; they could be retired. From different backgrounds. It's all women at the moment. There was one brave man who turned up. We didn't see him again, unfortunately!'
a great sense of achievement
And what exactly do you get up to if you're not learning grammar by rote, I wondered? 'Well, we do a bit of grammar sometimes if there's an appetite for it. But the thing is if you wait till you're grammatically perfect before you start speaking you'll probably never start at all. So what I do is pick out an article from Paris Match or whatever, about something we'd all have a bit of an interest in, and we talk about that'.
The conversational gatherings are great for building confidence in speaking your new language out loud. Before French Fridays, Bette says, she was better at reading French than she was at speaking it: 'pronunciation wasn't my forte. I was worried that I sounded like an eejit when I tried to say a word the way a French person would'.
French Fridays are great for exchanging learning tips too. Bette makes the sensible recommendation that when you're choosing your first few books to read it's best to select something that's written in a 'pure' form of the language. A biography of French soldier/Saint Joan of Arc by Gabriel Hanotaux published back in 1911 was one of the first reading peaks she conquered. She also recommends Maupassant and Georges Simenon's novels about Maigret, the detective brought to the screen so memorably by Jean Gabin. She recalls the first time she got through a whole page of Simenon's without having to look up a word: 'a great sense of achievement!'
The message is clear then – whether you want to talk like a medieval saint, a Parisian detective or a pirate of the Caribbean, it's time to set sail for your local library.
Email Bette at bettekingirl@gmail.com for more on French Fridays – or to join Pembroke Library book club. Details of other Dublin libraries' conversation exchanges are here.