The eyes of the city: Andrew Harris, Dublin's traffic control room supervisor.
'There's always someone looking at you' sang Dublin band the Boomtown Rats in 1979. Today in the city that someone is Andrew Harris and his staff at the Traffic Control Room.
They monitor the screens in their room in Wood Quay, 24 hours a day, 365 days a year. They've got 300-odd cameras in locations all over the city – with forty more on the way. Some of them you can see – up at the top of street lights, for instance. But it's the ones you can't see that command the best views, like the one atop Liberty Hall.
'It gives us a bird's eye view of a big section of the north and south quays', Andrew says. 'So we can see O'Connell Bridge' – he pulls a joystick and a zoom lens more than a kilometre away gives us a crystal clear image of some unusually well-behaved traffic on the bridge – 'Burgh Quay' – zoom – 'we can see Tara Street' – zoom – 'Butt Bridge, Georges Quay, Memorial Bridge, down as far as Thomas Clarke Bridge, Beckett Bridge. Any traffic coming in say from Fairview, Clontarf, Amiens Street, Gardiner Street comes onto Beresford Street here' – zoom-in on a white van, studiously obeying the traffic lights – 'so that camera is absolutely crucial morning or evening'.
Camera no. 22 is on top of the Wood Quay offices themselves. On this sunny afternoon the view it's showing of the quays is worthy of a John Hinde postcard. 'What a fabulous view!', says Dublin.ie, having an aesthetic moment.
Andrew is more pragmatic: 'It gives you a very good view of the quays. What's interesting is the way the patterns change. In the morning the north quays is a very, very busy route. In the evenings it can be busy as well – people coming in, maybe going to the concerts. But it's the south quays that are the main artery out of the city. If anything goes wrong on the south quays it has major implications for the rest of the city centre'.
Our job is trying to make sure that we've thought of everything because traffic will divert crazy ways, it is evolving minute by minute literally
Dublin.ie: The traffic lights are automatic but you can override here in this room, is that right? Could you ever have a situation like in that film The Italian Job where the robbers take control of the lights and bring the city to a stand-still?
Andrew Harris (AH): When I watched that film I was very interested because the room in the film is the one we work in here essentially. But our lights don't work like that. We can't have both approaches on green, or two conflicting approaches on green at the same time.
Dublin.ie: That's a relief.
AH: A lot of the time we're basically checking to make sure everything's doing what it should be. But if things are really grinding to a halt or we have an incident that we're dealing with we can intervene and lock a different plan in for anything from two minutes to ten minutes to two hours, three hours.
In extreme circumstances you can put lights on green for two minutes, three minutes. It's risky because traffic might start breaking the lights so it's only in extreme circumstances. But when you're trying to react like that, it keeps it very interesting. Our job is trying to make sure that we've thought of everything because traffic will divert crazy ways, it is evolving minute by minute literally.
Dublin.ie: So you've got to stay calm..?
AH: Sure, so say it's closed here – zoom – and then the Gardaí put in a barrier here – zoom – so then say everything on Dame Street is diverting down Fleet Street, you've also got traffic coming down Burgh Quay trying to get up D'Olier Street as well, you're also trying to get traffic out of Dame Street towards Christ Church that's going onto the quays and that's forming a loop back on Grattan Bridge at Capel Street.. So it's very tricky sometimes and you're just using your experience and just communicating to all staff just trying to make sure we've done everything we can.
Dublin.ie: You'd need your wits about you, wouldn't you?
AH: Sure sometimes it takes a little bit of patience. We always monitor a junction, say traffic is building up here, you don't panic, you check the system, see what it's doing. Right now these lights – zoom – are actually giving the maximum amount of time to traffic from Westmoreland Street, which is that is what they should be doing.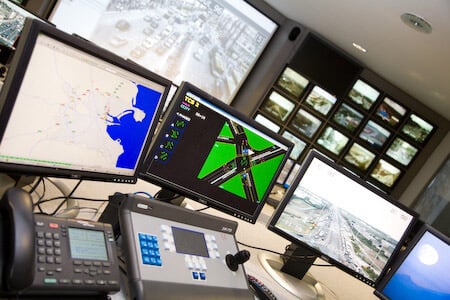 Dublin.ie: How do you know that?
AH: I know by experience (laughs).
Something I do tell people when they're in here is just to be more safety conscious, it's really not worth taking a risk. When you see the roof getting cut off a car…
Dublin.ie: Do other agencies work with you in managing the situation daily?
AH: Yes, the Gardaí would have a presence here during rush hour and Dublin City FM broadcast LiveDrive 103.2FM from 7-10am and 4-7pm on weekdays. If you're on Twitter, I'd recommend you follow @DCCTraffic, @LiveDrive and @GardaTraffic for updates. People can also view our live traffic cameras on the web, well when operators aren't actively using them.
Dublin.ie: You seem like a very calm guy. But does anything make you a bit, you know, frustrated with vehicle-borne Dubliners?
AH: There's a lot of delays caused by bad driving: people not reacting quickly enough when the lights do change, people stopping on yellow boxes. Then we see countless near-misses, every single day, whichever junction in the city. If we notice there's accidents happening in the same places we'll make recommendations: either the junction needs to be looked at in terms of redesign or additional pedestrian crossings or you need to increase the gap from the time the lights go red to when a pedestrian crossing comes on, which happens regularly.
Also, just on a personal level, I think most people who work in here – especially after a few years – we've seen the aftermath of probably thousands of crashes at this stage. It makes you very aware of the dangers. Something I do tell people when they're in here is just to be more safety conscious, it's really not worth taking a risk. When you see the roof getting cut off a car…
Dublin.ie: Has your job affected how you feel about the city?
AH: You see both sides. It could be where a car breaks down in the middle of the city and people go out of their way to help. You see a swan on the quays and you see passers-by shooing it out of the way of the cars. If you're working nights you'll see views of the sunset or the sunrise that no one else would.
Dublin.ie says thanks to Andrew, confirms a suspicion that he is indeed a chess player and asks him what his dream car is: an Aston Martin. But does he drive to work from his home in Portmarnock? 'Course not – he gets the Dart. Sensible fellow.