On Dorset Street in Dublin's north inner city there's a typewriter shop that's been there as long as I can remember.
Founded in 1983, it's run by Joe Millar and his son, who's also named Joe. It's the last typewriter shop in Dublin and the only one in the Golden Pages where it's listed, simply, as 'The Typewriter Shop'.
Before setting up the shop, Joe Sr had worked in the typewriter trade for the American manufacturer Remington: "they had offices in Dublin, Belfast, Cork, Galway and Limerick". They sold typewriters to offices, and serviced the machines to keep them in working order. "There were a lot of typewriter dealers. There were about ten dealers in Dublin, and there would have been about ten manufacturers, maybe more". The manufacturers would assemble the typewriters, which were made elsewhere, for the Irish market. Every office had at least one typewriter, and most had many more.
Millions of typewriters were made, and there are no manufacturers left
Remington built the first commercially successful typewriter in 1873, modelled on an earlier prototype that was designed by a group of inventors that included Christopher Latham Sholes and Carlos Glidden. It was known as the Sholes and Glidden Type-Writer – or the Remington no. 1.
"There were other brands and machines as well", Joe Sr tells me. "Underwood would be the other American brand of machine. And there were other brands that just lasted a short amount of time and disappeared or the patents were bought by other manufacturers and redesigned. So it's strange to say that millions of typewriters were made in the world, and there are no manufacturers left."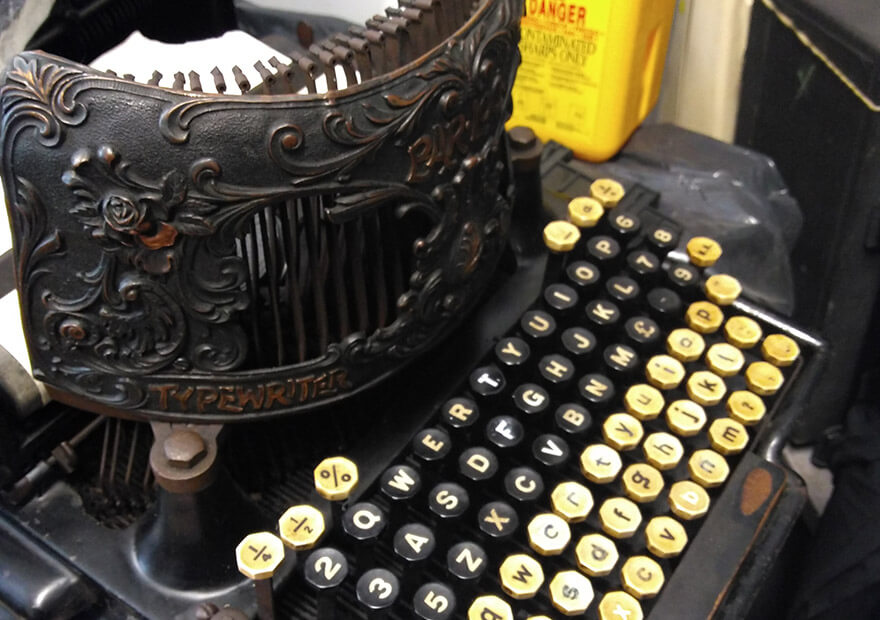 The move to computers wiped typewriters out. But some still use them – not just individuals, but some offices too. When something goes wrong with the machine, it needs to go to the shop to be fixed. One typewriter in the shop has three and a half thousand moving parts, and there could potentially be a problem with any one of them.
As I stand in the shop, talking to Joe Sr and Jr, the doorbell goes, and a man delivers an electronic typewriter to be fixed. Joe Jr deals with newer models, mostly electric, while Joe Sr deals with the older ones, mechanical machines. Although electric typewriters had been around since the early twentieth century, it wasn't until the 1960s that they became popular and relatively affordable: first for offices, then for the home consumer. The IBM Selectric, which used a spherical, spinning 'golf-ball' element to imprint text on paper, was, in Joe Jr's words, "the Rolls Royce of machines", and sold to offices for twelve-hundred pounds.
They're all nice to look at, until they break
"Now, because there's no typewriters manufactured anymore, any company that still has a typewriter sometimes finds it hard to get parts," says Joe Sr. "We have to circumvent and try to make something up. With the mechanical machines it's not too bad, but with electronic machines it's chaos, because parts are just not available."
They deal with this by finding other machines to "cannibalise" – taking parts from one typewriter to repair another one. How many days would it take to repair a typewriter, I ask. "We never give an answer to that", Joe Sr says. "No parts off the shelf. It depends on what's wrong with it."
When they have no other option, they manufacture their own parts in different ways. "You can get a part welded. Build up a part that's been worn." For electric typewriters, they do minor repairs on circuit boards, but for major repairs, like burnt-out boards, they send it to someone in Wicklow to have it repaired.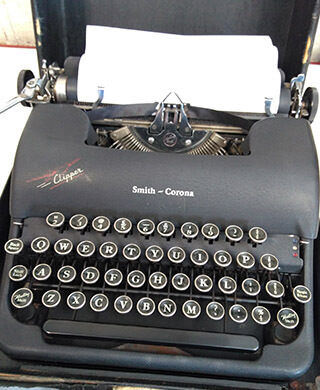 Joe Sr shows me a couple of the typewriters sitting on the shelves and tables of the shop. One, a Bar-Lock typewriter manufactured around 1894, has separate keyboards for lowercase and uppercase letters, and an elaborate curving copper plate above the keyboard bearing the name of the manufacturer. It's in full working order, so Joe Sr punches the keys, which sound like gunfire.
When he places an Olympia typewriter from around 1970 on the table, Joe Sr calls it "a machine with a bit of character". It's out of its plastic casing and I can see the complexity of its internal mechanism: skeletal metal rods joining the keys to the typebars. "That's lovely", I say. "They're all nice to look at," Joe Jr says. "Until they break".
Another typewriter is fished from the shelf – a matt black Smith Corona portable. We start talking about other shops in Dublin. "The trades have vanished in Dublin", Joe Sr says. He tells a story about a pair of shoes that he had for years. When he tried to get them fixed, he was told by the manufacturer that he was better off getting rid of them, buying a new pair.
"It's a throwaway society", he says. But not here, where, thanks to a bit of love and care, 120-year old typewriters still work like they did on the day they were built.