Phil Lynott, Dr Seuss and Eminem stroll into a bar.
They sit down, have a few drinks and start to have a raucously good time. That's the sort of vibe you get from writer and performance poet, John Cummins.
John would argue that Bob Marley has a place at the table too. "Bob Marley was huge where I was growing up. You'd hear him out of literally every window. And sure Dalymount Park was one of his last gigs." John cuts a curious figure. Skinny. Tall. Thin. Bearded. But with a wild braided bardic beard, not a hipster one. Overall there's a gentle, affable groove to his tripiddy-hop style.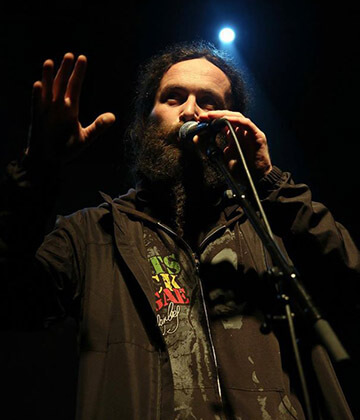 So this poetry business? How did it all begin? Well, not that he makes a big issue about it, but John grew up in Darndale. And poetry was a pursuit you didn't broadcast. It was kind of secret and furtive, he says. But words intrigued him right from a really young age.
Nobody went to college around my place, the big thing to do was to burn the uniform
"I shared a room with an older brother and remember listening to Simon and Garfunkel," he tells me as we sit having tea outside Neary's of Chatham St. Beside us the flower sellers sing of their various collections as John goes on to say he "adored their lyrics and their stories." When the vinyl span, John was rapt.
"I would pester my brother, asking what does this word mean and that word mean?"
Although a natural linguist – John's poems are peppered with Gaelic twists and turns – and smart at school, John says he didn't really apply himself to study. "If you applied yourself, you stood out. Nobody went to college around my place," he says, adding "the big thing to do was to burn the uniform."
God must have been in a pretty good humour when he was met doling out talent to John. Because in an addition to his sharp and joyful poetic brilliance, John can also kick a mean football. And that wizardry kept him away from the 'bedlam' that surrounded him growing up. "Yeah… crime, sport, politics and art. Those are the things that get you out of those places," he says, quickly adding: "I know that I am very lucky to have been blessed with two."
Slowly the words 'Home Farm and UK trials' appear in the conversation. UK trials? Arsenal no less! But he didn't like it. He was 17 going on 18. He points out the fact that it was an ugly time in England with Thatcher and the miners' strikes. "I just didn't like it. I was homesick" he says.
I am thinking of fusing a few things together and developing pieces that are 8-10 mins long
So he went back to Dublin – and took up coaching. In his early twenties, he was coaching guys 10 years his senior. "I was telling them what to do" he says. The charisma he exhibits on stage obviously worked wonders on the pitch too. And to this day, he says he still loves kicking a ball against a wall.
"F double o t … b a double l
Them's the magic letters
That cast that footie spell,"
A random meeting with a German girl in McDaids led to a move there. They split up after a while. But he stayed on some 11 years in Germany. He learnt German. And quietly kept writing.