2017. The 350th anniversary of Jonathan Swift's birth. Word of the year according to Collins Dictionary: 'fake news'.
But, says Swift expert Brendan Twomey, there was plenty of that about in Dublin back in the early eighteenth century.
To keep Swift's name in the papers, his printer frequently made up stories about him, his celebrity friends and their amusing escapades. Gulliver's Travels itself is a sort of fake news; the book purports to be an account of the actual travels of an actual voyager.
Also according to Collins, usage of the word 'Swiftian' peaked back in 1959. But don't get the idea that Swift's legacy is on the wane. Melvyn Bragg recently called Swift's Modest Proposal "one of the most chilling and brilliant satires in English". And there's a continual supply of targets out there that are just begging for a bit of Swiftian commentary.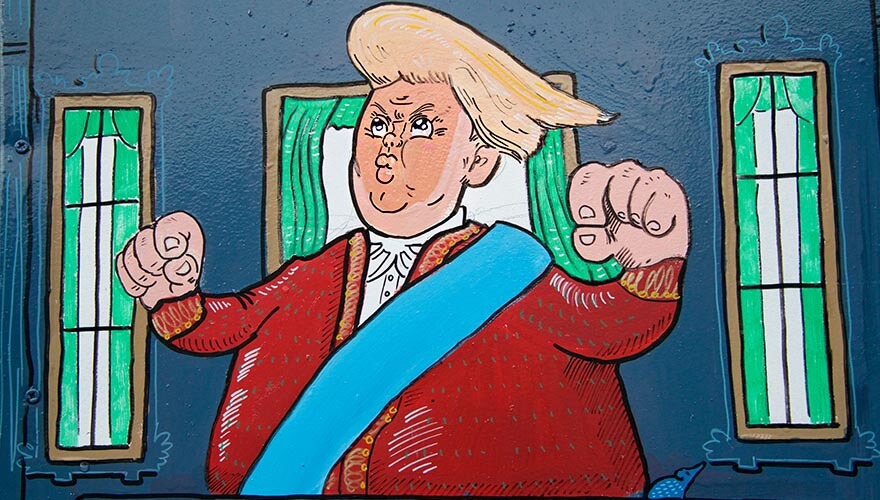 Artist and barrister Hugh Madden can think of one for a start: Donald Trump. And there he is, appearing in the role of the emperor of Lilliput in Hugh's brilliant new Gulliver's Travels-themed mural.
You'll find it on the wall of the car park of the General Register office on Werburgh Street. (Swift himself was born in Hoey's Court, just off this street, in 1667.) Hugh says he's no Swift expert himself. But like all the rest of us, he was exposed to various expurgated versions of Gulliver's Travels for children when he was younger. "And a particularly scary animated version" on TV too.
You'd need to be sitting down
when you read that one.
As an artist, he certainly appreciates the book's arresting imagery, which includes the "rats the size of mastiffs" and the musician frogs that appear in his mural. "His works teem with fascinating and colourful characters and creatures", he says.
Swift's second most famous work is A Modest Proposal. In it, Swift, writing as was his custom under a pseudonym, suggests that the poor of Ireland might alleviate their suffering by selling their babies to the rich – who could eat them. I ask Hugh if he considered taking A Modest Proposal as the theme for his painting? He did not. The painting is outside the office that holds records of babies' arrivals into the world, so this is probably a good thing.
But it's a bracing thought that some bits of Swift are still absolutely outrageous, centuries after they were written. Brendan Twomey remembers the reaction of an audience at the Gaiety Theatre when the actor Peter O'Toole chose to read to them from A Modest Proposal. Many were scandalised; some walked out. "It's still a shocking piece of text", says Brendan, also pointing out that you'd be locked up for the sort of behaviour that occurs in the second book of Gulliver's Travels. "You'd need to be sitting down when you read that one", he says.
Yes, he was a great character.
He was out to shock.
Yes, there's a part of Swift that will never be house-trained. At the corner of Golden Lane and Werburgh Street, there is a series of beautiful terracotta plaques by the artist Michael C Keane. They depict a number of Gulliver's adventures in Lilliput. But you will look in vain for the one in which he extinguishes a fire at the Lilliputian palace by peeing on it from a height.
The outrage is part and parcel of Swift's persona. Famously he was Dean of St Patrick's Cathedral – from 1713 to 1745. I ask the current dean, Dr William Morton, how he feels about this aspect of his predecessor. 'Yes, he was a great character. He was out to shock. He stopped people in their tracks', he says.
The more you read him, the more you realise just how smart he is.
But he had his reasons. It was part of his 'response to the situation of the poor in Dublin. He identified with their human plight', the dean believes. 'He was interested in social justice, in improving people's lives. He stood up for the causes he believed in. He campaigned against Woods halfpence [a new currency that the government in London tried and failed to impose upon Ireland]. He stood up for Ireland'. What cause do you suppose he'd be involved with today?, I ask. "If he were back now he'd try to do something about the plight of homeless people", says the dean.
But satire wasn't the only lever Swift used to effect social change. The dean points out that he put his money where his mouth was: he left his fortune to St Patrick's hospital, of which he was founder. And Brendan Twomey, keen and able to slot Swift into a contemporary context, playfully suggests that it was him – rather than recent Nobel Laureate Muhammad Yunus – who invented microcredit. In an era before banks as we know them existed, Swift would lend small amounts of money to people who would otherwise have no access to credit. These included, in a remarkable move for the time, women. He did this on an organised and ongoing basis – Brendan has found the documents that prove it. "Maybe the wrong guy got the Peace Prize there", he jokes.
So Swift was a pretty smart guy?, I say to Enda Leaney, Senior Librarian at the Dublin City Library and Archive. Enda, one of the organisers of the Swift 350 exhibition, was co-presenter with Brendan Twomey of a series of talks in his anniversary year. "So smart, so much depth", says Enda. "He's like Beckett. The more you read him, the more you realise just how smart he is". Too smart to be likeable, wonders Dublin.ie? "Well, he was rumoured to be quite grumpy. But he did become a very popular character", says Enda. "He was made a freeman of the city, for instance".
Enda says that the job of the library "is to be the memory of the city". As befits such an institution, it is very strong on Swift. Among the works it preserves and makes accessible to the public are the first London edition of Gulliver's Travels and the second Dublin one. But the collection also includes Gulliver-themed lantern slides, the Victorian equivalent of video, plus a number of gorgeously illustrated children's editions.
The imagery is so strong, so ubiquitous – the huge man, the tiny little people – that it feels like it's always been there. It hasn't, not quite. But in 2017 it's been around for nearly 300 years. And in Dublin, UNESCO city of literature – as well as everywhere else that English is read – no one's ever going to forget it.
Images courtesy of Hugh Madden and Dublin City Library & Archive.