Laura McGann's documentary, Revolutions, traces the growth of roller derby in Ireland.
It's full of outspoken characters and breakneck action, and it tells the compelling story of the birth of a sport – the creation of something new – in recession-era Ireland.
McGann, originally from Newbridge in Kildare, studied media at Ballyfermot College of Further Education and film at Liverpool Hope University. She returned to Ireland in 2010, when 'a lot of things were winding down or ending' in the country. Roller derby 'was starting and had a really great energy about it. So, I think the timing was crucial.' She began filming in 2011.
She was aware of the existence of the sport having seen the movie Whip It, starring Ellen Page, but didn't know roller derby was actually played in Ireland until she found information about the Dublin Roller Derby team on Facebook.
'I checked out their videos', she says. It was like Whip It, 'but in real life. This was all going on in Inchicore, around the corner from where I was living. I liked their kind of DIY style. They were doing it for themselves. They were organising it themselves. And it had a kind of rawness that appealed to me.'
Roller derby games consist of two teams of five skating counter-clockwise around an oval track over the course of two thirty-minute halves. Each team nominates a member – called a jammer – who picks up points by lapping the opposition. The remaining members of the team help their own jammer while trying to block the opposition.
I find it fascinating when somebody is really into something
The game is fast and furious – people fall, injuries ensue. McGann films the action expertly. 'It's so hard to capture that energy and that real sense of movement and pace. We worked hard to try and get that. And that's what I wanted to try and capture: that sense of aggression, and the adrenaline when they're on the track. And the sweat's rolling off them, and they're really going for it.'
I ask McGann about how she approaches the process of making a documentary. 'It's just thinking about how I can best tell the story – how can I shoot this to get the most out of what's going on around me?'
The sport is dominated by women. McGann found this an interesting contrast to most other sports: 'it's built entirely by the women. It's not often you get to do something like that; you get the opportunity to make it purely matriarchal and see what comes of that.'
Arguably the main character in Revolutions is Crow Jane – roller derby players typically play under pseudonyms – a punky dayglo-haired tailor playing for the Cork City Firebirds who channels her energies into the sport as her business declines because of the wider economic crisis.
When they're that passionate about it, and you see how they kind of strategise to make the sport bigger and to get better and to take over
McGann heard that an all-Ireland roller derby team was being formed to compete in the inaugural World Cup in 2011, and went to the first training session. 'I met Crow there. She looked like nobody I'd ever met before.' She was the same person on-camera as she was off-camera, McGann says. 'I kind of knew she was going to feature in the film, whatever the film would end up being. I just thought this is someone who I'm interested in.'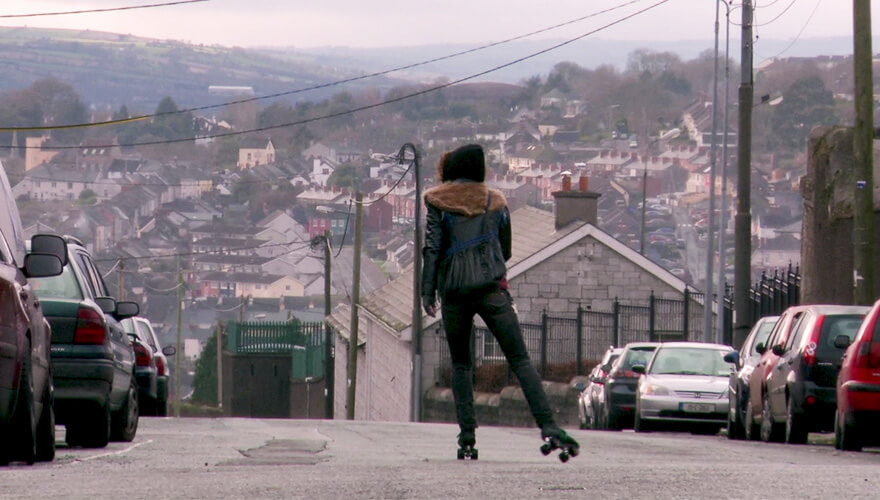 Crow was picked for the Irish team, and McGann travelled with them to the World Cup in Toronto. The film documents the tensions between the Dublin and Cork players, led by the combative, driven Crow. At other points in Revolutions, you see Crow planning tactics for the Cork team, motivated by her overwhelming desire to beat Dublin.
'I find it fascinating when somebody is really into something', McGann tells me. 'When they're that passionate about it, and you see how they kind of strategise to make the sport bigger and to get better and to take over, to beat other teams.'
McGann made the film over three years, and it benefits from this long-term commitment. It wasn't the type of film 'where you're trying to rush it', she says. 'I was really interested in the characters and their lives – and, you know, lives move slowly.'
Revolutions memorably combines exhilarating roller derby footage with an affectionate insight into the characters behind the sport – fast action, slow lives.