When Vanessa Daws moved to Dublin in 2011, she did something that might seem unusual to most people, but has become a habit for her:
"The first thing I did was I arranged a swim down the Liffey at dawn – what I normally do when I go on art residencies or move somewhere: I find the nearest body of water and I swim in it."
She tells me that she does this to feel more at home in a place: "to bond with a place. To be accepted by the city. Connecting, submerging, in the city. And I knew if I swam I just knew I'd be able to relax in the city. I knew it would be alright. I got in at the Ha'penny Bridge, down the ladder – it was a bit guerrilla", she says. "I've learned a lot since, because now I'm a proper swimmer in Dublin I know the right way to go about these things."
The idea of swimming across the M50 was quite interesting, but it was scary
Daws is an artist and a swimmer – originally coming to Dublin to study for a Masters in the National College of Art and Design – and her work brings these two worlds together. Her art explores place through swimming.
She has swum in many "urban watery spaces", as she calls them: in the University College Dublin lake, through fountains, and across the aqueduct that carries the Royal Canal above the M50 motorway. "The idea of swimming across the M50 was quite interesting, but it was scary because it was a bit manky. I was just worried that there were a lot of dodgy things in the water", she says.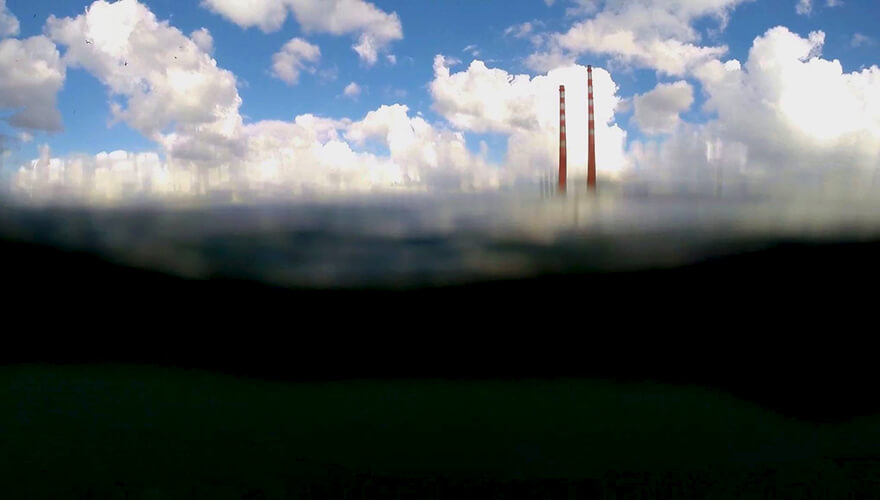 Often she films her swims using a head-mounted GoPro video camera, and later screens the videos as part of an exhibition or installation, drawing images taken from the video for the small books she publishes about each project. In September, one of her films will be projected onto the wall of the headquarters of Dublin Docklands on Custom House Quay as part of the port | river | city project, a series of artistic installations in the docklands area.
She's also a sea swimmer, and, while researching and swimming all the way around Lambay Island – she tells me she's the first person to circumnavigate the island – she came across the story of a shipwreck off the north Dublin coast.
it's your playground. You're part of the city, you feel like you totally belong
The RMS Tayleur was an iron-hulled clipper ship chartered by the White Star Line that, on its maiden voyage to Australia in 1854, went off course in a storm, ran aground on Lambay and sank in deep water. Some estimates say there were nearly 700 people on board, and perhaps three hundred or more lost their lives.
Daws wanted to know more, and researched the shipwreck. "There's many theories of different reasons why it went down, but I suppose one of the main things was the fact that it was a metal boat and they hadn't tested the compasses." It's thought that the iron hull caused a magnetic deviation in the ship's compass, meaning that the ship's crew thought they were sailing toward the south when in fact they were sailing westwards.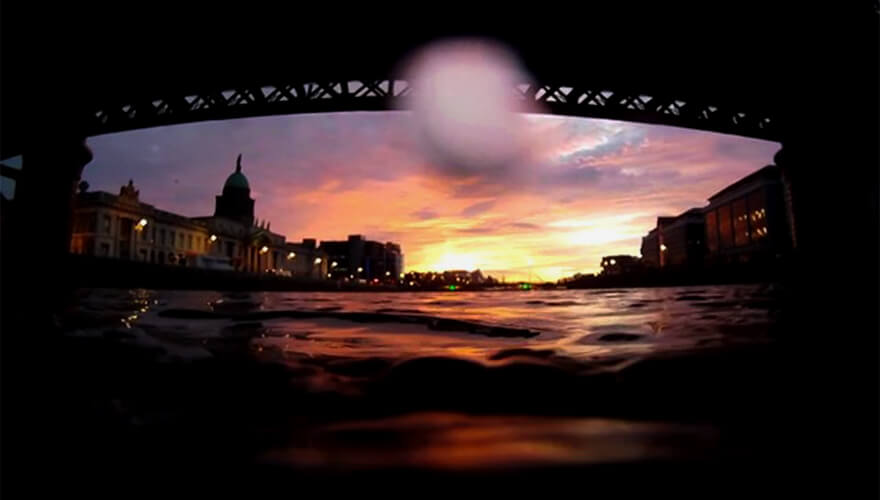 Her interest in the wreck wasn't about focusing on past tragedy but rather exploring the wreck, "as an object at the bottom of the ocean", in the present moment. Although she's not a diver, she knew she had to dive below the surface in order to explore the wreck, which she did with some other more experienced divers from the UCD Sub Aqua Club.
"Once I was down there it was kind of beautiful", she says. "It's all flattened – it's not like a stereotypical ship at the bottom of the ocean. But it is beautiful. It has anemones and things growing on it. It's got this sediment all over it, and these creatures and things starting to grow on it, and lots of little starfish. White starfish. Very poetic."
When we're jumping off bridges, we do feel like we own the river
Daws' project about the Tayleur is called Other Space, and on 3rd September, as part of the Resort Revelations III programme at Fingal's Bleeding Pig festival, she'll run a boat tour out to the wreck and host a public discussion with Eoghan Kiernan of the subsea survey company Geomara, who has researched and conducted a sonar scan of the wreck, and Laddie Dejon, a salvage diver who dived to the Tayleur in the 1960s and 1970s, retrieving artefacts that are now housed in the National Museum.
Although her artistic practice has brought her out to sea in the search for new subjects to explore, Daws retains a fascination with the River Liffey. Every year she takes part in a charity jump from O'Connell Bridge, organized by her friend Robbie Clarke in aid of cystic fibrosis. And two years ago she jumped off every city bridge along the Liffey – "all seventeen of them".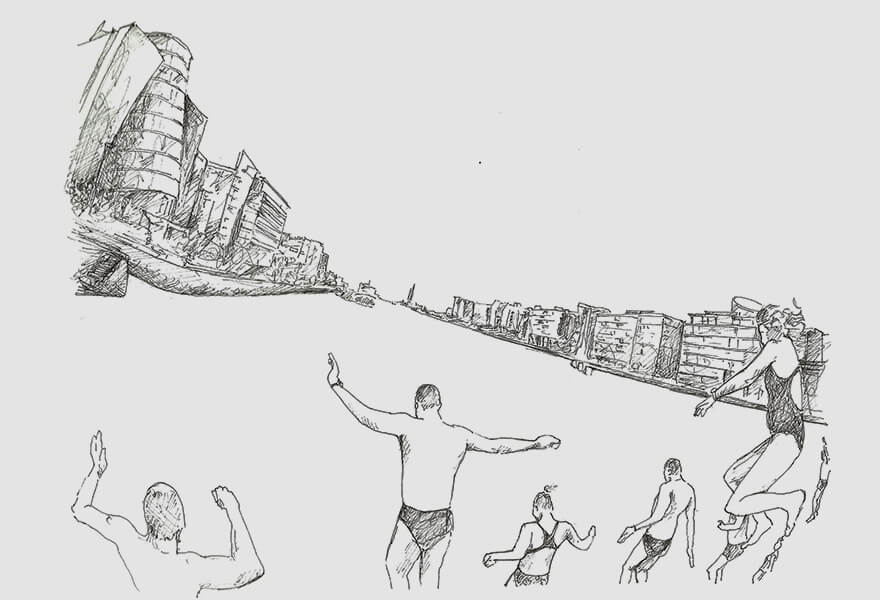 "One summer, we did it in sections of… was it four bridges each go? Because of the tide. There'd be a couple of hours at high tide" when it was suitable for jumping in. "So I think it took us four goes to get them all done."
"When we're jumping off bridges, we do feel like we own the river", she says. "You do feel like it's your playground. You're part of the city, you feel like you totally belong there."
To book a place on the Other Space RMS Tayleur boat tours, or for further information about the
Resort Revelations III events, contact Caroline Cowley, Public Art Co-ordinator, Fingal County Council: caroline.cowley@fingal.ie
For more information visit; vanessadaws.com or bleedingpig.ie