A hotbed of Irish literary talent.
Although the Irish Writers Centre has long been a place for keen readers and writers to attend readings and launches, or to take part in one of the many writing classes on offer covering every topic from memoir to ghostwriting to autofiction, the centre can at times be overlooked because of its location, tucked away as it is away from the bustle of the city, beyond the trees of the Garden of Remembrance.
This will all change very soon. The new City Library is under development nearby, and the Irish Writers Centre, which is part of the old Jameson House comprising the Dublin Writers Museum and the Chapter One Restaurant, will soon find itself in the heart what will become the Parnell Square Cultural Quarter.
Valerie Bistany has been the Director of the Irish Writers Centre for five years now, having initially come on board at a time when the centre was still in a period of tumult. In 2008, Arts Council funding was withdrawn due to concerns about "value for money and quality of service to writers". By 2009, the centre was on the verge of closing when Jack Harte, the original founder of the centre in 1991, with the help of other activists, intervened to keep it open.
Harte had established the centre as a place "for writers to write and to encourage people to write. He also started the Irish Writers Union to give writers a voice," Valerie tells Dublin.ie.
If you're a member, you can come anytime between 10am-5pm, Monday to Friday.
We have over 450 members.
When Valerie came in, there had been no director for five years. "Trust needed to be re-established," she says. Valerie had a vision for the centre that is now well underway. "When I came, it was very much about reconnecting with writers, making sure that writers knew we were here, that we were supporting them, not just emerging writers which we were doing well with the courses, but also professional writers who need that support and development in their own career."
As well as developing the range of courses on offer, they also came up with the idea of day long sessions aimed at professional writers, focussing on the "nuts and bolts" business of a writer's life, demystifying the process of grants applications, copyright, contracts, even taxes, as well as how to pitch ideas to festival programmers and arts organisations, something that has "become part and parcel of what a writer must do to earn a living."
Valerie is even running one of them herself. Under her direction, the Centre now runs between fifteen and sixteen writer in residence programmes a year, and people need help applying. "What I come across when people apply to us for residencies is that there are basic things that, even though people are writers, they don't understand about the application process."
There's no question that there has been a surge in interest in Irish writers internationally in recent years, and much talk of a new wave of young talent. Valerie has seen the influence of that in the increase in applications for the centre's courses and "membership has doubled since I came on. We try to keep our ear close to the ground on what people want to do courses in. At the moment creative non-fiction is very hot." The centre also collaborates with the Stinging Fly magazine, who run a prestigious masterclass there, and the American College on their Creative Writing MFA.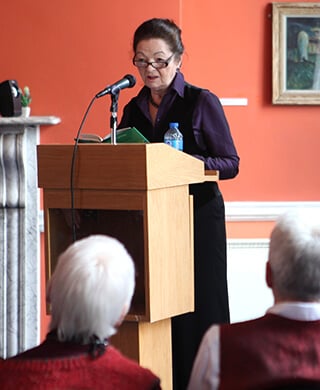 The centre is also developing its international presence. "We are now connecting with Norway, Wales and Florence, where we have writers in residence, and we're talking about a residency with Spain. Last year we connected with the States where, along with Poetry Ireland, we did a showcase in Boston called Bula Boston, and with Kevin Barry and Lisa McInerney and Paul Howard."
They're not the only writers to have links with the centre. Micheal D Higgins is the patron of the centre and there are six ambassadors who lend their name to it. "Two Booker Prize winners, Anne Enright and John Banville, Roy Foster, Eilis Ui Dhuibhne, Marian Keyes and Joseph O'Connor. They have a three year term. Eilis and Joe read at our annual Christmas event. John Banville has attended events with Denis Lehane. We're hoping to do something with Marian Keyes in the autumn but I can't tell you."
People have an inhibition about writing creatively in Irish, so it's about building people's confidence
Alongside all this, people actually write here too, quietly tapping away at laptops in corners. "If you're a member, you can come anytime between 10am-5pm, Monday to Friday. We have over 450 members. They can use any room in the building that is free."
Membership is a mere €50 a year, much cheaper than buying scores of lattes to write in a coffee shop. The centre also hosts Irish Times Book Club events, and occasionally, something a little more novel, like 'Publish Your Passion' "which is aimed at people who have a really good idea and want to write a book about it but don't quite know how to do it."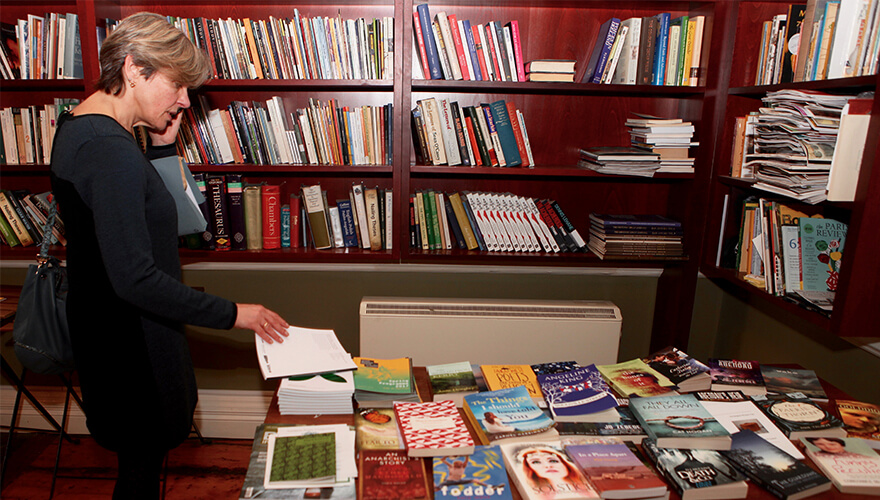 The annual Novel Fair is also highly regarded; a place for hopeful novelists to place their manuscripts in the eyeline of agents and publishers. "We're trying to internationalise that by inviting publishers from abroad and attracting more manuscripts from abroad," Valerie says.
Looking ahead, Valerie sees three main areas she is keen to develop. After the success of a cross border writing programme called XBorders, "we want to do a lot more North/South work – especially with what is happening with Brexit."
It is possible to do things for writers but they also need to articulate what their needs are so we're trying to encourage them
Valerie ran the Dublin Youth Theatre for six years in the nineties, and so it comes naturally to her to want the centre to "connect with young people, something the centre has never done in its twenty six years. People tend to come to writing when they're a little bit older with a bit of experience and what we wanted to do was see that age level drop so we're connecting with the next generation of Seamus Heaney's or Samuel Becketts. Our focus is the 16-29 age group." The centre plans to establish a Young Writers Delegates Programme at literary festivals, putting out an open call for young writers to blog for the festival, or pairing young people with mentors.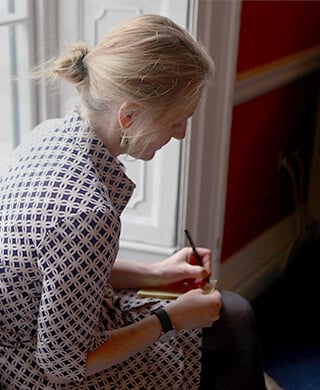 The centre is also keen to develop their Irish language remit. "Gaeilgeoirs are not naturally inclined to think of us," Valerie admits, but she wants to create a space for creativity through Irish. "People have an inhibition about writing creatively in Irish, so it's about building people's confidence up, with room to make mistakes."
The centre is also moving into the area of commissioning writers: there was a series of articles for the Irish Times on an Irish writer's life, and an highly regarded anthology for the centre's twenty five year anniversary.
Valerie is excited about the future of the centre, and the new traffic the library will bring to the area. In the meantime, she wants to hear more from writers themselves. "When I first came here and I asked writers what they needed, they said money, and I said, Next!" She laughs. "And they said, time and space to write. Hence the residencies. It is possible to do things for writers but they also need to articulate what their needs are so we're trying to encourage them all the time to come to us with ideas. What I'm trying to do is create a community for the writers."