"Through its great novelists, poets, and dramatists, Dublin's diaspora has exerted an unparalleled influence on the world at large, providing a unique cultural experience with literature at its heart, and in the process, spreading the city's literary influence to the four corners of the world."
– Dublin's Bid Document for UNESCO City of Literature designation
Dublin residents are by now familiar with the UNESCO emblem on programmes and posters for the city's many literary events, but it was only on the 26th of July 2010, that Dublin was designated a City of Literature by the cultural arm of the United Nations. The fourth city to receive such a designation, after Iowa City, Melbourne and Edinburgh, it was a recognition of Dublin's lively contemporary literary scene built on the strong foundation laid by past masters.
Alison Lyons has been the Director of Dublin's UNESCO City of Literature programme since 2016, having previously worked as a librarian in the Dublin Prison Library Service. "It was really interesting and a little different!" she laughs.
The idea that money pours in via UNESCO is a common misconception
Alison explains that Dublin's bid for UNESCO in November 2009, "didn't just involve talking about writers of the past and the reputation that Dublin already has but also proving that we have a largely indigenous publishing industry and great universities and literary departments, bookshops and theatre, everything going on in the city, and the support that the public libraries give and exposure for writers."
The City of Literature office now has its home within Dublin City Public Libraries and is funded by Dublin City Council and the Department of Culture, Heritage and Gaeltacht.
The idea that money pours in via UNESCO is a common misconception. "There's no money coming from them at all. There are twenty cities of literature and they all have different economic situations but we all have to fund our own programmes." However, the designation means there's "a budget every year for our projects and small amounts we can grant to other groups, theatres and writing groups. Politicians and business people always want to ask about how do we measure the benefit financially. It's much more small scale…It's affecting our citizens locally."
The designation is not so much about tourism as it might seem, but has more significance for the people of Dublin. Alison agrees that people may travel to the birthplace of Joyce and Shaw regardless. The effect is "more qualitative, to do with the projects we run and the people who benefit. For example, we have a 'Readers in Residence' project in the North East Inner City, where we send readers into primary schools to encourage a love of reading for pleasure among children.
One of the big projects run by Alison's office is the Citywide Reading Campaign, where young adult authors such as Dave Rudden and Shane Hegarty encourage children's reading interest through visits to schools and libraries.
But the most well known project is the annual 'One City, One Book' project. A particular book is chosen and events built around it. The city is saturated with the book, in its libraries and conversations.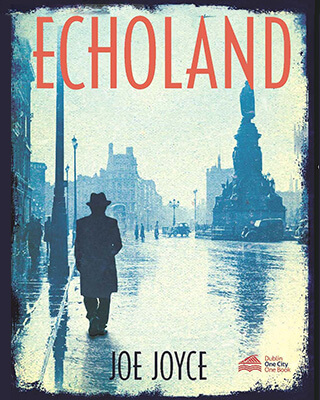 We try to have something that is themed around Dublin, and the book has to have content that you can programme events around
"It's considered a clever ploy to attract people who wouldn't normally read or wouldn't choose to read the particular book." Alison says. The events go beyond the ordinary book club. "This year's book, Echoland by Joe Joyce, was fantastic because it was set in 1940s, during the Emergency. You could run a lot of historical type events and walks and tours and you might get people who would be interested in the history of the period but wouldn't necessarily read a lot of fiction. They're brought to the book that way."
Previous books include Strumpet City and the Barrytown Trilogy but choosing a book is no easy task. "It's all open for suggestion and it's not some austere panel of people imposing this on everybody. It's a discussion through consensus, and discussion amongst library staff… A lot of the time we might like to revisit something. Strumpet City was a perfect one because publishers wanted to reprint it. We try to have something that is themed around Dublin, and the book has to have content that you can programme events around."
They are mindful of anniversaries. "In 2022, it will be a hundred years of Ulysses so we're strongly considering challenging the people of Dublin to read that!"
Despite occasionally turning to the past, it is clearly part of the City of Literature's remit to support upcoming writers. This year's 'Dublin: A Year in Words', for example was a poetry project supporting and commissioning up and coming spoken word artists and poets of today. "And there's the New Theatre in Temple Bar. We give them a small grant every year to produce new drama by young people. We have a small office but we do as much as we can."
Alison tells me that at the heart of the UNESCO designation is "the creation of a network, to get together and conduct projects and forge links between countries, especially encouraging countries from the 'global south' or South America and Africa, to join so we can do projects together."
We have amazing writers and I think we give them great exposure in Ireland
Because there is not a huge amount of money, the UNESCO offices must be creative. "One we did this year was an online cookbook that involved recipes taken from the pages of literature from each of the cities. We picked Irish stew and we had little extracts from literature that referenced Irish stew and put together into a nice [package] that we all can share. There are small cheaper projects…little ways of us coming together and being aware of each other."
Given that Dublin's perennial immersion in all things literary, has UNESCO really made a difference? "The big difference for us is the practical changes being able to set up this office and have a budget and being able to work with other cities. It's more subtle and more on the ground. It's less for tourists, more for the citizens."