It's still early in the morning when I walk up the steps to the National Library.
Standing on the porch, through the fence I can see the TDs totter up the path next-door, folders underarm, heading into the Government Buildings. This Kildare Street building has housed Dublin's main public reference library since 1890, and in Joyce's A Portrait of the Artist as a Young Man, he describes students gathering here to smoke and chat. Inside, it is quieter than even a library should be although there are a few eager types waiting in the lobby. A cleaner polishes around the bronze bust of Senator Michael Yeats, son of W.B., and smiles at me pacing the floor.
I'm due to meet with Katherine McSharry who is Head of Services here, and has been with the National Library since 2007. Despite the fact that nearly 270,000 visitors cross the threshold every year, I want to talk to her about why the National Library can feel like an intimidating place, only to be entered with a strict purpose and a serious face.
There's a point in family history where if you go far enough back, something bad is exciting
Katherine, for her part, understands where I'm coming from. We sit down for coffee in the library's Café Joly, which starting to fill up with people in the know about Dublin's hidden tearooms. "I remember the very first time I ever came in here, I got as far as the hall, there was an exhibition on in the hall, there was another bit of it that was up the stairs, and I just wasn't sure if I was allowed go up and I went away. And I'm always glad I had that experience because I always remember it, because it's very easy to forget when you get used to place what it's like for someone to come in for the first time."
Until quite recently, visitors tended to be people who came here when they had a piece of research they wanted to do. It's only in more recent years, that there are facilities for people who just want to see some of the collections or an exhibition. Katherine especially enjoys events like history lectures and poetry readings that allow people to come in who usually wouldn't, "so you come in and get the sense of, oh this beautiful space is lively and exciting. There's something here for me."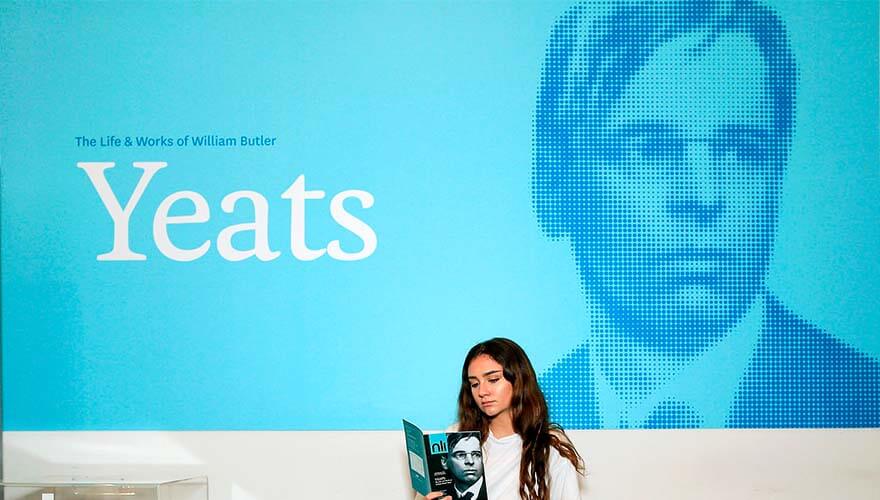 As with all cultural spaces, the work of libraries has expanded and its new facilities are opening it up to a wider audience. "We have every newspaper published in Ireland as far back as they go, but right up to the day before yesterday. All the regional papers as well." People are always drawn to their local paper, maybe looking for a mention of their granddad winning a club medal.
They also collect all the books published in Ireland every year, there are even bundles of brightly coloured Marian Keyes' somewhere in the dusty stacks. "That doesn't seem like a huge deal but in fifty years time, when certain paperbacks are out of print, maybe this will be the only place where you can get them."
He'd be furious if someone would come in who didn't know it was his desk
Since 2011, the Library also collects websites, the 'online memory of Ireland,' a sort of internet version of 'Reeling in the Years'. They identify moments that are a "big deal for Ireland", such as the Marriage Equality referendum and "collect websites, even satirical ones, that reflect the spectrum of opinion."
There are drop-in genealogy facilities, where specialists will help you find that rogue ancestral serial killer. "There's a point in family history where if you go far enough back, something bad is exciting," Katherine laughs. The library hosts children's workshops with storytelling and trails through the buildings. A recent family workshop looked at designing your own bookplates.
And big changes are afoot for the library; a huge renovation project to open up the space. "What you notice when you come in off Kildare Street, a big imposing street, and you come in through this quite narrow doorway, everything looks very Victorian and imposing. And you've got to get through the pillars. And when you walk in through the entrance then people often feel, am I supposed to be here? What the development will allow us to do is almost re-imagine the library as you would have built it from scratch…"
Book storage is currently located along the busier Kildare Street side, and the public facilities are all towards the back. "The redevelopment will allow for the swapping around of those two. When you come in the very first thing you will see is a cafe and a shop. The books will be in climate controlled storage at the back…" Half a million books will have to be moved. There will also be a Séamus Heaney exhibition in the attic, similar to the W.B. Yeats one housed in the basement since 2006, which was never intended to be permanent but is now the library's biggest draw.
We have to find you and make sure you connect with this
Katherine takes me up the stairs, past stained glass windows and the genealogy room where some older men, maybe retired, are already clicking and scrolling through the screens, taking some delight in uncovering branches of the family tree. In the Reading Room, under the turquoise dome, the rows of green glass lamps give off that pleasing scholarly Good Will Hunting feeling. Katherine tells me about a library frequenter, Father Dineen, who wrote dictionaries and had a special seat where he'd work and eat oranges all day. "He'd be furious if someone would come in who didn't know it was his desk. They would innocently sit at it and he'd be giving them really angry eyes." Yeats worked here too and Joyce even set the ninth episode of Ulysses in the National Library of Ireland, straying from form and using people's real names.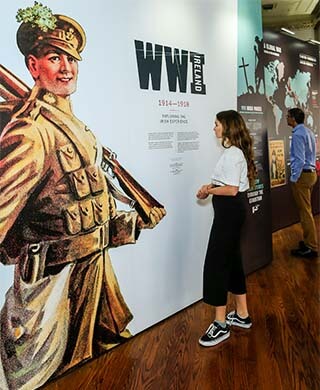 The Library also houses an extensive archive and last year, all eyes were on the materials relating to 1916. "The emotional impact of archives is so far away from that idea of huge amounts of material and wading through it.
"We had the Scottish Minister for culture in recently and we were showing her some stuff from James Connolly who was born in Scotland; the letters he wrote to Lily who went on to be his wife, and the witness statement that Nora his daughter wrote after their last visit to see him. Lily says to him, 'Oh but James your beautiful life' and he says, 'Wasn't it a fine life, Lily and isn't it a good end?"
The library has also put together a current World War I exhibition to look at the Irish experience of the war, using archive materials like the diary of a mother whose son disappeared in battle. The library is always searching for new ways to bring Dubliners in. "It's not our job to sit here and say we have these marvellous things and be delighted with ourselves and say we would like you to make an effort and join us. Our job is to go 'we have all these wonderful things, and all these wonderful chances and technology and we have to find you and make sure you connect with this'".