Ed Giansante left Sao Paulo for Dublin in 2008 with the hope of learning English and making a new start in Ireland.
He lived with a host family in a Dublin suburb and went to an English language school near Mountjoy Square.
His timing was both good and bad. Ireland's economy had hit a massive recession, and the country was facing into a period of austerity. It would be hard for a native to survive in the capital under such conditions, let alone a non-English speaker.
He found work with Stratogen, an advertising agency, where he worked for 18 months. "I was making hardly any money, because of the recession, but I had a job. That was really important in so many ways; integrating, learning, just getting experience. I was lucky," he said.
Indeed, Ireland was a tough place for anyone to be in 2008. But, on the plus side for Ed and several others, blogging was on the rise. Ed found himself blogging to a small audience at home about his experiences of moving to Dublin. "I was telling them about the food here, like chicken fillet rolls and crisp sandwiches!" Ed said. "It was all just personal experiences; it grew very organically that way."
Now there are about 30,000 Brazilians living here
By 2009, Ed was attending the Blog Awards, where he was a finalist up against none other than Rory O'Neill, aka Panti Bliss. "It was a bit crazy. Obviously, she wasn't as famous back then, but Nialler9 was also there, there was this group of people at the awards who are now really successful, and it was amazing to be there after just one year of being in Ireland," Ed said.
Ed took up work with Zynga for a while, where he explains he was doing work on Farmville and other Facebook games. He is now community manager at Dropbox. But it is Ed's blogging that is the most interesting part of his story to date.
He is the founder and CEO of eDublin, an organisation dedicated to providing information to Brazilians interested in moving here. "We break it down into a lot of detail," Ed said. "Accommodation, where to study, visas. It's not just a general guide. Most of us at eDublin lived that, so it's more detailed than a general guide. We provide information on businesses as well. Where to work, who can work there? And vice versa, we find talent from Brazil for companies here."
In the 1990s there was a visa lottery for Brazilians to come to Ireland. This brought the first, small group of Brazilians over. Ed was part of the second group that came in late 2007. "It's grown a lot," he said. "Now there are about 30,000 Brazilians living here."
So why would someone from Brazil choose to study English in Ireland and specifically Dublin? "The big driver is the ability to work and study," Ed said. "There are so many restrictions in America that you basically cannot work legally. In the UK you can only work 10 hours per week, legally. In Canada, you need to have a certain level of education. But in Ireland, we can work to pay for our studies."
we had Samsung VR there, giving these VR tours of Ireland and Dublin
Ed explains that in Brazil, about 3 to 4 per cent of people finish school, and even fewer have English as a second language. "There's a huge demand for learning English, so the few who can, leave," he said. "Ireland is one of the best places in the world to learn English. On top of that, with Brexit, Ireland is the only country in Europe with English as the main language now as well."
Ed has made that journey for many Brazilians much easier. His site now has over 300,000 visits per month and 500,000 followers across social media. So how are all these Brazilians finding their time here?
"Integration is difficult initially," Ed said. "There's no second generation of Brazilians here, so we're all still at the point of getting used to each other. Culturally we're very different: Brazilians are very expressive and outward, Irish people aren't like that. Don't get me wrong, everyone is very friendly and kind, we socialise with colleagues and everything, but that's where it ends. You need longer periods for real integration."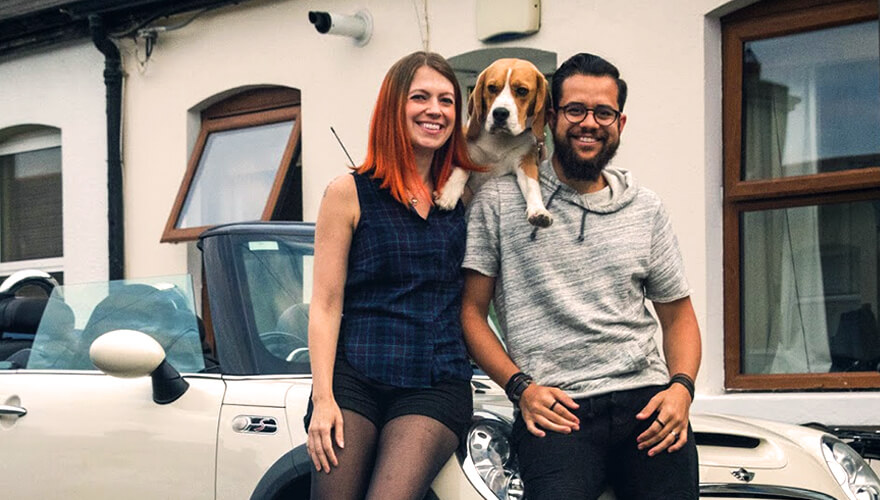 He's absolutely right. During the Celtic Tiger, thousands of Polish moved to Ireland for work. Generally speaking, they have been seamlessly integrated into Irish society. Now, 10 or 15 years later, there is a second generation of Polish-Irish adolescents living here, being educated and working. "That will happen with Brazilians too," Ed said. "It's just that we were a bit behind those guys!"
Ed is now running events in Brazil, showcasing Ireland and Irish culture to potential emigrants "We had the Irish ambassador give a talk, and we had Samsung VR there, giving these VR tours of Ireland and Dublin. Going forward, I'd really like to do more events here in Dublin. I want to raise our video output to five videos per week, interviewing Brazilians who have moved here about their story. We just want to connect and grow it here."
Ed will be speaking at the TBEX conference, the world's largest travel bloggers conference, held in Killarney this year, on October 3. Further down the line, eDublin will celebrate its 10th anniversary in January. Ed explains that he has something big up his sleeve. But he's not giving anything away just yet.
Find out more at: E-DUBLIN TV